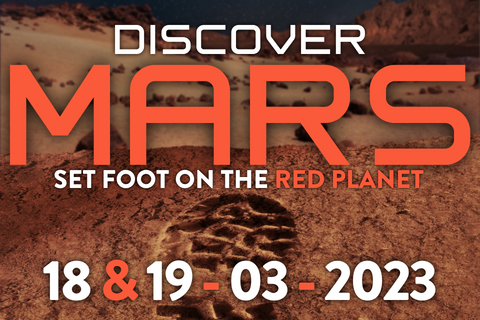 Discover Mars - New Interactive and Immersive Exhibition!
From to
To launch "Discover Mars", Euro Space Center is hosting a unique weekend on March 18th and 19th, with a variety of fun activities for all ages. Visitors can participate in workshops about the planet Mars, rover-building workshops, commented planetarium shows, and conferences that are only available during that weekend.
Come and experience a fun and educational family outing! Reserve your spot online to guarantee your participation.
This exhibition will allow you to discover the secrets of the red planet while offering unique experiences. Engage in original hands-on activities that will allow you to discover the celestial features of the planet:
How old are you on Mars?
What does your voice sound like on Mars?
What are the different rovers that have explored Mars?
Martian meteorite, Mars Scan... and many more.
Mysterious and until recently inaccessible, Mars is an object of exploration, observation, and questioning. Today, it is considered the best candidate for human exploration and future colonization.
Join us on March 18th and 19th!